Looking for an SEO Speaker & Trainer in Dallas, Texas?
John J. Nosal is a regular speaker for MeetUp events, Business events and Networking events with topics ranging from Internet Marketing, Search Engine Optimization (SEO) to Social Media and the Job Search.
"John has a true heart for GIVING. What I most enjoy about his expertness is his ability to communicate across cultures, academics and age populations!"
Lisa M.
"He boiled down social media and made it approachable and provided great tips."
Regina B.
"John is an engaging and informative speaker whose passion for Social Media is contagious. I have had the opportunity to attend John's presentation on Social Media as a marketing tool for job seekers on several occasions, and witnessed first-hand how his wealth of knowledge, and conversational style energizes his audience. John's expertise in Social Media is invaluable to job seekers in today's media-centric environment. His practical down-t-earth approach has helped non-technophiles embrace the concept of Social Media."
Daisy B.
Speaking Topics
Internet Marketing – Internet Marketing has been evolving and growing how do we need to market our businesses? What do we need to say about our products or services?
Lead Generation with LinkedIn – This is a "Lunch & Learn" topic that has been given to several sales teams that are looking for another way to generate leads. After all, we all love making cold calls, right?
Social Media and The Job Hunt – The good old days of looking for a job in the newspaper is going away. Social Media sites like Twitter, Facebook, LinkedIn and even Pinterest are now being used as tools in the Job Search.
LinkedIn for Job Seekers – LinkedIn is synonymous with finding a job. But to do this effectively, you need to properly focus the message you are making. It all about properly communicating who you are and what you do and how you can make or save a company money. As a job seeker, we are all forced to be sales and marketers of us the product.
LinkedIn for Business – Developing and managing a presence on LinkedIn as a business can provide additional opportunities to increase branding and product awareness. Adding good content in the form of company profile and generating appropriate updates is key.
iPad Tips and Tricks for Business – iPads smart phone and tablets are everywhere, but using them in business eludes us. It can be used for more than just checking e-mail and watching NetFlix. Using the shortcuts, having access to corporate information and finding apps to get the job done are all things that take the iPad from a cool toy to a serious business tool.
Upcoming Speaking Engagements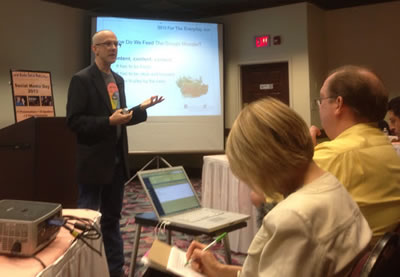 Rocks Digital 2017
RocksDigital.com
June 29th and 30th, 2017
Previous Speaking
Podcast Dallas Meetup – Presented on How to Market and Attract Your Ideal Audience
Dallas Interactive Marketing & Internet SEO/SEM Meetup – Presented on Google Analytics and Google Webmaster Tools.
DFW Social Media Marketing Group – SEO and Social Media how it all ties together.
SearchSocialAndLocal.com – Panelist member on the topic of local search.
BizLink – Presented several times on a variety of topics including LinkedIn For Business, Using Your iPad For Business and Internet Marking Tips and Tricks.
Big Design Conference – Presented at both 2013, 2014, 2015 and 2016 events on the topic of SEO.
Rocks Digital (formerly DFW Rocks Social Media) – Presented at the 2013, 2014, 2015 and 2016 events on the topics of SEO, Google Analytics and LinkedIn.
Dallas Baptist University – Presented in 2017 on the topic of SEO to the Communications students as a guest lecturer.
Texas A&M Commerce – Presented and sat on panels at the 2014, 2015, 2016 and 2017 SBE CON events on the topics of SEO, Google Analytics and LinkedIn.
Southern Methodist University – Presented in 2017 on the topic of LinkedIn to the Advertising students as a guest lecturer.
Southern Methodist University – Guest lecturer in 2016 and 2017 on the subject of SEO Tools and Tricks for an evening CE class on Building a Social Media Plan.