Ever wanted to have your own bar code to do things with? They are limited to a certain number of numerical digits and don't do a lot more than inventory control. I have been hearing talk about QR Codes here lately and have been seeing some interesting uses for them.
What is a QR Code you may be asking? Well, here is one.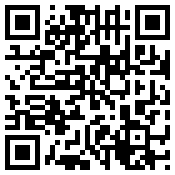 One of the uses of QR Codes is with smart phones and allow you to quickly point to a bit of information based on the code. It can be a phone number, SMS, or web address coded in the blob of squares.
There could be a lot of cool uses for this. Imagine having the code on a product package and have it take you to more information on the product or even suggested uses.
How about putting the code on the back of your business card and have it linked to your LinkedIn Profile, your website or portfolio.
Are you doing a trade show? How about putting on in your booth that take a visitor to your contact us page specifically setup for the show to capture date in to Sales Force?
Tomorrow, I have the opportunity to speak to a group about LinkedIn, I am going to put a small sign up that point to my contact page and see what happens. Or maybe I should do my LinkedIn profile.
Do you want to generate one? Check out Kaywa's website and have fun…
Then load up your smart phone with one of the free apps to scan your new QR Code.
Leave us a comment, tell me how you are using a QR Code.