On January 10, 2017 I had the opportunity to speak at the DFW SEO meetup that I co-organize with Steve Kuntz and Rob Mapes. The night was hosted by Improving.com with a slice of pizza and networking with about 40 people in attendance.
Dirty Dozen SEO Tips Every Digital Marketer Should Know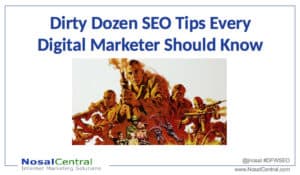 Download the presentation notes:
Download the PDF file
I just learned 12 SEO Tips for #DigitalMarketers! by @JNosal #SEO #Marketing
Click To Tweet
Have questions or would like to have a Digital Marketing Review done please let us know.